Testimonials
Here's what others had to say about AmericanDuct…
"I was extremely surprised at how clean and dust free the job was done. I will recommend AmericanDuct to all my friends and family."
-Susan Springer, Glencoe, IL
"I was impressed with several aspects of AmericanDuct's approach. The clean air technicians had a very high level of professionalism. They educated me about the duct systems remediation process and taught me how to take care of my system in the future. What also amazed me was that I noticed an immediate difference. In the winter, I used to wake up every morning with a dry and sore throat. Since AmericanDuct cleaned my air duct system, I haven't awakened with a sore throat even once. It makes me wonder what was coming out of them before I had them properly cleaned."
-Jeff Koeller, Wheeling, IL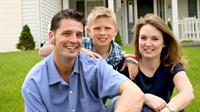 "We have a small, three bedroom colonial house. It was probably built about 30 years ago. I don't think that the air duct system had ever been cleaned. We always had the feeling that the air was dusty or dirty as soon as we put on the forced air heat for the winter. Things have entirely changed since AmericanDuct cleaned our system. We noticed an air quality change the next day and ever since. The clean air technicians were also very courteous and thorough about cleaning up when they left. We are very appreciative of their professional job."
-Robert Rudd, Northbrook, IL
"I had no idea that their service would benefit us so quickly. After AmericanDuct cleaned the air duct system in my house, I noticed immediately that there was a huge decrease in the amount of dust."
-Mark Hampton, Barrington, IL
"I have used AmericanDuct before- their exceptional service in the past keeps me coming back. The service is always prompt, courteous and professional. "
-Barbara Conrad, Schaumburg, IL
"Excellent and professional service throughout the entire process. AmericanDuct exceeded my expectations".
-Julie Paulson, Winnetka, IL
AmericanDuct cleaned my air ducts and my dryer vent. I was very happy with the price and the quality of work they did. They were very clean, polite and professional. They answered all my questions and walked me through the entire process. I was very happy with this company.
-Anna Darby, Wauconda, IL