Air Duct Cleaning
Sneezing?… Coughing?…Sore throat?… Fatigue?… Asthma?… Headaches? Upper Respiratory Discomfort?… Watery eyes?… Dust?….
If you suffer from allergies, it could be related to your forced-air heater or air conditioning duct system. Just take a minute to remove one of your return grilles and look inside…
That simple dirt, dust, carpet fiber, or building material that you see may be contaminated with bacteria, fungus, mold, or dust mites. These pollutants are force-fed into your home every time the fan is activated, causing allergies, asthma and respiratory problems to flare.
Medical researchers have found that the debris in your ductwork can cause allergies, irritate your bronchial system, or lead to a number of other illnesses. Most people don't realize that the space occupied by the ductwork in their home is equivalent to a spare room — a room that has never been cleaned!
The average person spends 90% of their time indoors. Filthy air ducts blow bacteria, fungi, mold, pollen and other disease-causing spores into your living environment morning, noon and night.
Duct Cleaning & Restoration
• Makes your home or office a healthier, safer, and cleaner place.
• Assists in the prevention of asthma and allergies.
• Combats illness and respiratory problems throughout the year.
• Reduces household dust, dirt and pet dander.
• Eliminates germs, molds, bacteria, and fungi growth.
• Alleviates odors and helps your home smell fresher.
• Prevents costly heating and cooling system breakdowns.
• Removes construction debris and blockages.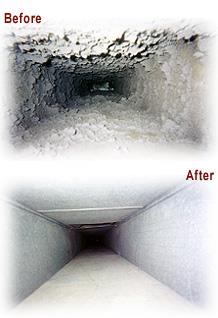 –––––––––––––––––––––––––
Over the years, AmericanDuct has brought relief to thousands of allergy and asthma sufferers by eliminating the harmful contaminants hidden within their air duct systems.
AmericanDuct is proud of its history, as well as the superior services that we offer to our customers.
Call us today for a free phone quote:
(800) 550-2978